Auto Injuries in Clifton, NJ
Accidents by definition are unexpected, so it's completely understandable if you've been knocked off your feet—literally and figuratively—by a recent car crash. At the Natural Health Center, our Clifton multidisciplinary team would be honored to help you recover from an auto accident injury of any type. It's our mission to provide effective, drug-free, and holistic services that help ease the physical and mental stress of an auto accident and let you get back in the driver's seat of your own well-being!
Recognizing Auto Accident Injury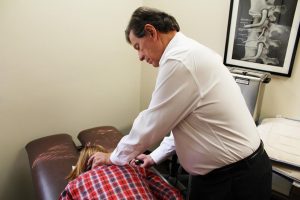 An auto accident injury isn't always obvious. Maybe a few days or weeks after your accident, you have trouble sleeping or feel more irritable and anxious than usual. You could have ringing in the ears, a minor achiness in your shoulder or back, or an overall sense of fatigue. All of these signs and symptoms could indicate an underlying injury.
Common types of auto accident injury that we see among our patients include:
Whiplash
Concussion
Disc herniation or bulge
Joint dislocation in the shoulder, spine, or hip/pelvis
Connective tissue injury, including muscle strains and ligament sprains
Nerve compression or strain, such as sciatica or brachial plexus injury
Whether your auto accident injury is severe, moderate, or mild, it's important to seek help as soon as possible to reduce your risk of chronic and recurring dysfunction.
Auto Accident Injury Treatment With Our Clifton Multidisciplinary Team
Led by Dr. William Eickhoff, our Clifton multidisciplinary team has several unique services to offer you or your loved one dealing with an auto accident injury:
Innovative treatment care: manual adjustments realign injured joints and stimulate the central nervous system to reduce the intensity of pain signals
Acupuncture: This traditional Eastern healing technique is a painless way to trigger biochemical healing effects in the body, increase your energy, and relieve pain and tension throughout the body
Pain control injections: specifically targeted for deep pain relief and restored joint range of motion, provided by our Clifton doctor and associated nurse practitioners
What's great about these services, in addition to being completely non-invasive and medication-free, is that they have a synergistic effect on each other. We've found that by combining some or all of these techniques within your personalized treatment program, we can enhance the overall healing effect you experience.
Need Natural Healing from an Auto Accident Injury?
Connect with our experienced multidisciplinary team for holistic car crash recovery, no matter how long ago your accident was! To schedule an appointment, call the Natural Health Center at (973) 470-0687.