Chiropractic Care in Clifton, NJ
It is our number one goal to have you healthy as quickly as possible. Every time that you enter our doors, we will evaluate how the last session went so that every appointment is a step in the right direction. No matter how you hurt yourself, we will find a comfortable way to safely help you.
The System of Chiropractic
Chiropractic care is based on the concept that the alignment of the musculoskeletal system is critical to the proper function of the rest of the body. Injuries and poor posture or body mechanics can result in chronic pain. In addition, misalignments affect your internal organs, which may cause digestive upsets, an irregular pulse, high blood pressure or diminished lung capacity. Chiropractic is also about proper nutrition – today's standard American diet does not promote optimum well-being.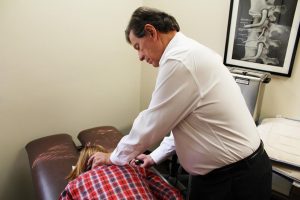 Our Services Treatments
Chiropractic adjustments are one of the many services we offer to help correct the root cause of the pain. Our Doctors of Chiropractic hold Advanced Proficiency Rating and Proficiency Ratings in the Activator method, which allows for much more precise adjustments than the conventional techniques. In addition, we offer acupuncture, rehabilitation programs, corrective exercises and nutritional counseling that includes the use of supplements to correct deficiencies and promote optimum well-being.
Call Natural Health Center in Clifton, NJ Today!
The Natural Health Center has been in practice for over 45 years and in that time has served tens of thousands of patients, helping them to better health without the use of medication or surgery. Whether you have suffered an injury, have a chronic pain condition or simply want to improve your health, please contact us at the Natural Health Center at (973) 470-0687. We are located at 1033 Clifton Avenue in Clifton, New Jersey and serve the surrounding area.
Natural Health Center of Clifton Wins 2019 and 2020 Best Chiropractor Awards
The Best Chiropractor Awards judging panel of industry specialists honored Natural Health Center of Clifton with the 2020 and 2019 Best Chiropractor Awards for their quality of care and patient satisfaction over the last year.
Competition for the award was high due to the number of chiropractic practices in the area. Several of these practices stood out from the crowd, but Natural Health Center of Clifton came out on top.
Partnering with only the best practices, the Best Chiropractor Awards works with one winner in each major city throughout the country. This winner is selected annually and receives various perks including an exclusive business listing, a website badge, award certificate, social media graphics, and more.
The Best Chiropractor Awards wishes the best for Natural Health Center of Clifton in the 2020-2021 season and sincere congratulations on their winning of these prestigious awards.