Clifton Multidisciplinary Medical Office
Here at Natural Health Center, we live up to our name by providing natural, non-invasive, non-pharmaceutical healing and pain management services for Clifton residents. In many cases, we prescribe multiple healing techniques as part of an individualized "whole body" plan that addresses your specific goals, needs, and challenges. Take a look at the range of care we can provide for every member of your family.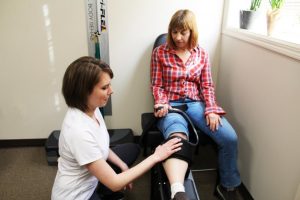 Managing chronic pain doesn't have to require a lifetime of heavy painkilling medication. We practice Responsible Pain Management.™ For over 45 years, our mission has been to help our patients get out of pain without the use of medication or risky surgery. We will put together a pain management program that draws on any or all of our treatment techniques.
Our highly trained pain management specialists develop customized treatment plans specifically to treat the patient as an individual. We have pain control injections, top of the line bracing, the nurse practitioner will do strapping, ultrasound. Our Medical Director specializes in joint pain, back pain, migraines, neck pain, carpal tunnel syndrome, neuropathy, sexual dysfunction, hair loss and more.
Chiropractic adjustments are one of the tools in our comprehensive healing strategies. Our team uses small, precisely-targeted forces that restore normal joint motion. This is not only critical for treating joints suffering from injury or chronic misalignment; it also allows the body to assume a straighter, more correct posture, resulting in less muscular strain and better nerve function. Our Chiropractic Department is award winning and won Best Chiropractic Office in Clifton.
Acupuncture has been helping people feel and function better for thousands of years. This staple of Traditional Chinese Medicine is based on the principle of correcting imbalances in your life-energy flow through the strategic insertion of hair-thin needles. We can use acupuncture treat such diverse issues as skin problems, digestive troubles, sore throat, neurological symptoms, and reproductive health complaints.
Therapeutic Exercises & Rehabilitation
Whether you need to recover from a devastating injury or you just need to re-train your body to perform as it should, our Clifton clinic can help. We can prescribe just the right set of therapeutic or rehabilitative exercises to help you increase your range of motion, build up your strength, heal a nagging injury, or stabilize your balance.
Occupational therapy focuses on enabling clients to maximize their capacity to participate in life activities that are important and meaningful to them, to promote overall health and wellness. Our Occupational Therapy Team facilitate patients' abilities to adapt and organize their daily occupations or activities related to self-care, home management, community participation, education, work, and/ or leisure into daily routines to prevent and minimize dysfunction, promote and develop a healthy lifestyle, and facilitate adaptation and recovery from injury, disease, or developmental challenges.
We treat behavioral disorders, scoliosis, growing pains, digestive disorders, child headaches, and more. Our Doctors of Chiropractic provide gentle adjustments on children from newborn on up. Our Occupational Therapists are trained to provide therapeutic interventions that help develop fine motor skills, cognition, language skills, and more.
Corrective Exercises
Telemedicine
Let Our Clifton Team Serve You
Experience our services first hand. Call (973) 370-9378 to schedule a consultation!